Bai Deyuan,the top level arts and crafts master of Beijing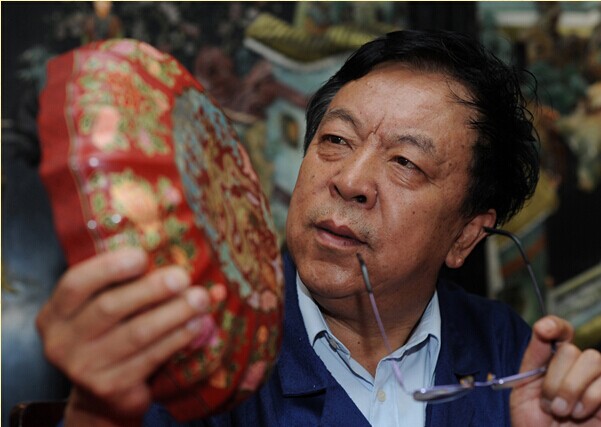 Bai Deyuan was born in February of 1947. When he began to work, he took Wang Zhen who was the fourth successor of Han Qilong as his teacher. Han Qilong specially opened a lacquer ware workshop for the palace in Shajing Alley of Dongcheng District during Guangxu of Qing Dynasty. As the fifth successor of Han Qilong, Bai Deyuan comprehensively studied lacquer coating, as well as colored drawing and lacquer inlaid, and he also participated in researching, restoring and reorganizing of Four Cracks with his teacher Wang Zhen. In 1983, they studied carved filling crack together and got succeed, thus they filled up this technique as a result.
  In 1989, the large stereoscopic gem inlaid Nine-Dragon Screen which he designed, guided and supervised was awarded Golden Cup of the Hundred Flowers of Chinese arts and crafts. The large inlaid screen Red Phoenix which was designed and supervised in 2013 by him got gold award of Arts and Crafts Cup in the first Beijing Arts and Crafts Exhibition. In the same year, Bai Deyuan designed and supervised Gold Lacquer Inlaid Throne Series for Qinzheng Palace of the Fragrant Hill, and this project got Beijing Arts and Crafts Treasure Award.
  In 2005, Bai's work Glorious Future got Beijing Arts and Crafts Treasure Award and the red sandalwood gem embedded screen Three Lions Bring Treasure got the best crafts award of Chinese Arts and Crafts Hundred Flowers in the year of 2010. One year's later, a series of lacquer ware work which copied Han Dynasty he developed got silver award of Hundred Flower-Lacquer Flower of Chinese Lacquer Ware Fine Arts Exhibition. In 2013, in the same exhibition, he got the gold award for his gold lacquer inlaid work Flower Screen which had 9 parts with a head.
  Over the years, Bai Deyuan devoted himself to digging and reorganizing Chinese traditional lacquer art and classical furniture history and cultural connotation. He had issued many monographs in some Press such as Beijing Daily, China Cultural Relics News, and Wings of China, and always actively organized intangible cultural heritage declaration of gold lacquer inlaid. In 2007, Gold lacquer inlaid production technique was included in Beijing intangible cultural heritage protection list. In 2008, Gold lacquer inlaid painting technique was included in national intangible cultural heritage protection list.
  Bai Deyuan is given the title of representative inheritor of Beijing gold lacquer inlaid production technique of Beijing intangible cultural heritage project. Now as director of China Arts and Crafts Association, he is also an acting chairman of Lacquer Ware Professional Committee of China Arts and Crafts Association, vice-chairman of Lacquer Art Professional Committee of China Arts and Crafts Association, supervising chairman of Beijing Arts and Crafts Industry Association, and vice-chairman of Beijing Interior Decoration Association.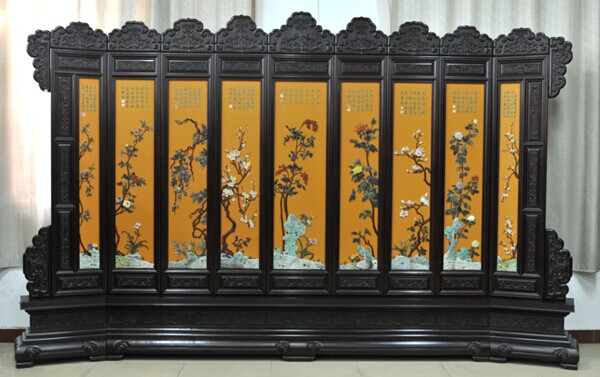 Gold Lacquer Inlaid Flower Screen which had 9 parts with
a head got the gold award of Hundred Flower-Lacquer Flower in 2013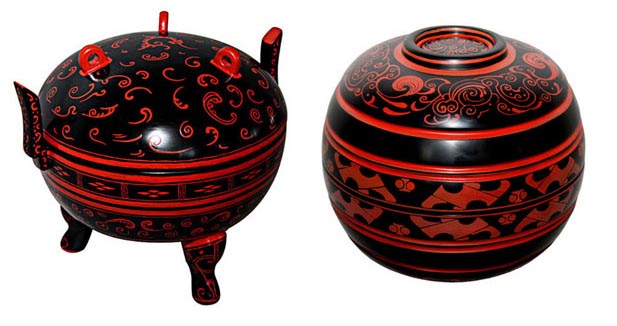 A series of lacquer ware work which copied Han Dynasty got silver award of Hundred Flower-Lacquer Flower of Chinese Lacquer Ware Fine Arts Exhibition in 2011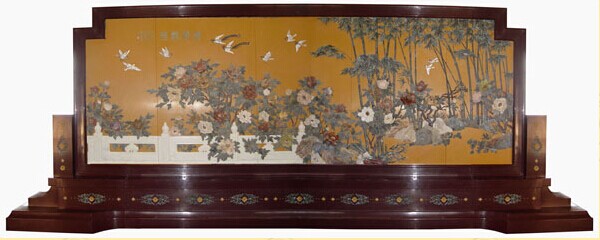 The large inlaid screen Glorious Future got
Beijing Arts and Crafts Treasure Award in 2005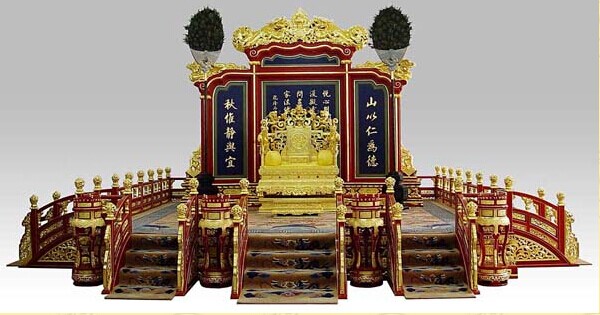 Gold Lacquer Inlaid Throne Series for Qinzheng Palace of
the Fragrant Hill got Beijing Arts and Crafts Treasure Award in 2003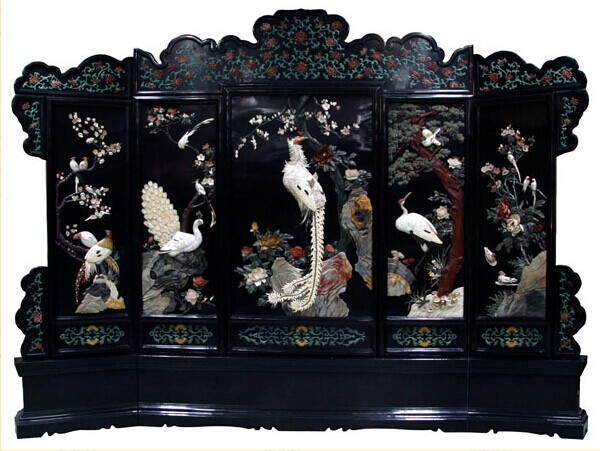 The large inlaid screen Red Phoenix got gold award of Arts and
Crafts Cup in the first Beijing Arts and Crafts Exhibition in 2003

The large stereoscopic gem inlaid Nine-Dragon Screen was awarded
Golden Cup of the Hundred Flowers of Chinese arts and crafts in 1989